LeClasp KEY Holder -
Product Description and Benefits
Have you noticed the evolution of keys over the last decade??
Simply take a glance at YOUR key holder.

Does it look like this one?
Today's keys are larger (longer, wider, heavier) and multifaceted. Automobile manufacturers feature $85 electronic keys and starter\anti-theft alarm\power door\trunk release remote controlled units\systems.
Now..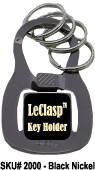 . try removing any one or set of keys! (house, car or mail box key, remote starter, pocket knife). A pain in the !@#&&*, eh?!?!?

The end to your typical « key holder » FRUSTRATIONS is finally here!

The patented LeClasp™Key Holder (Manager) incorporates an ingenious friendly « multi-ring » mechanism that allows for the quick attachment and removal of keys. Helping to a

void frustrations and broken nails.
As simple to use 1-2-3! (see diagram)
1. Place thumb and index finger on the diagonal lines at the center of your LeClasp™.
2. Squeeze.
3. Add or remove keys at will.

For added convenience, we have equipped LeClaspTM with four split rings that let you GROUP keys into « sets » of 2-6 keys per ring. For example, dedicate one ring to your h

ouse keys, another to your work keys, car keys, etc.
NOTE: The modular design allows you to add up to nine additional « sets » of keys.
Wow… No ordinary benefits here. The efficiency and simplicity of our truly practical « jewellery-calibre » gift idea will pleasantly surprise and delight recipients (YOU) for many many years. Everyone soon wonders how they survived without it.
More... Unexpected Benefits!
LeClasp easily clasps, attaches and hooks your personal stuff too!
(click picture for more info...)
The most likely to necessitate the ingenious LeClasp™ Key Holder are people of all ages searching for a practical key holder that effortlessly clasps (add, remove, clings to) indispensable keys and pocket gizmos.
The fashionable LeClasp™ Key Holder is offered in five industries decorated as follows:
---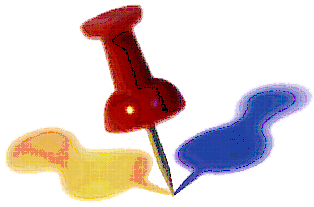 If you need additional information or would like to brainstorm an upcoming initiative, contact our Sales and Marketing Manager @ [ info@quagtum.com ]