LeClaspTM "KEY" Holder and... Self-Defense Device!!
Helps Recipients "Manage" Their Sets of Keys
Now checkout several unique benefits for recipients - employees, workers, clients, friends, family and you!!
Top Benefits to End-User... Recipients!
Saves your Nails... Manicure.

Never again break, tear or chip fingernails. Simple squeeze on the thumb pads... Magic!!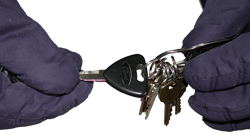 Instantly... quickly remove\add car, mail box or truck lock keys from the ignition switch while wearing your thick, warm winter gloves\mittens. Yeah... Just mind-boggling!!
Checkout Fighting the Cold Winter Elements for additional winter-related safety benefits.
We all carry and attach way to many pocketgizmos onto our key holders.
You know, anything other than "keys" attached with a split ring to your key holder.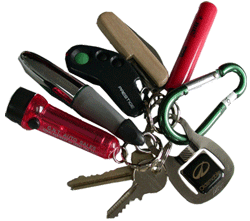 Maybe a souvenir from a special holiday; or a loved ones gift we just can't throw away; or a clients useful promotional gift such as squeeze key chain flashlight, disposable key ring light, key tag/whistle, bottle opener, carabineer clip, pocket knife, multi-task combination pocket tool, USB Flash Memory Drive, etc.
Do you (customers\workers) ever need to, or want to attach/secure your key holder onto something?? It is an impossible task with most key holders, ehhhhhhh?!?!

LeClasp™ conveniently attaches onto Belt and Pants loops, Bag Straps (hand, sport, tote, luggage, hockey, luggage, travel), Medium-Larger Zippers, Zipper Pulls, Lanyards, ID Badges, Luggage Straps and… onto the other unworkable, key holders/tags/rings!!
Click image to enlarge
Prolong "Ignition Switch" Life Span
LeClasp™ can also help prevent vehicle ignition switch damage and expensive repairs, eliminate steering column scratches and reduce clinging noises.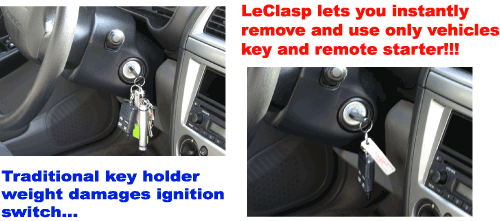 Before proceeding, it is important to note we are NOT promoting violence, and we are convinced - men or women - understand.
At an early age we enroll our children in self-defense courses.

How many confess demonstrating the "keys between the knuckles brass fingers" grasp to teenage daughters for personal protection against attackers, aggressors, or creep

y strangers?
ALL or us at one time or other have walked or jogged alone at night holding our keys in a brass knuckle grasp forsafety measure.
However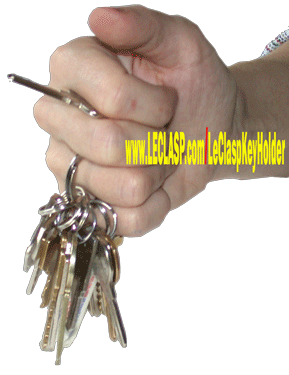 self-defense instructors will agree the method of self-defense is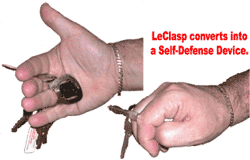 more or lesseffective. Why??
First, once panic sets in the average person will drop his or her keys within 15-30 seconds of an violent assault. Secondly, bones can be fractured as soon as you strike an aggressor because unanchored keys dig into fingers\hands\palms.
As a personal safety device, The LeClasp™ Key Holder can rapidly be concerted into an effective hand claspedPersonal Safety Device for your security... safety?
Anyone working shift work or sportspersons traveling will appreciate the LeClasp™ Personal Safety Device that can help give you the peace of mind when leaving the office\mall late to catch the bus; or the brisk walk thru an unlit parking lot in the wee hours of the morning; or,any other time that you feel danger\uncomfortable about your personal safety.
Sooooo..... How can you quickly transform YOURLeClasp™ Key Holder into aneffective, handclaspedPersonal Safety Device for means of security... safety?
How to Setup and Use LeClasp for... Your Personal Safety.
Wow… No ordinary benefits here!! The effectiveness and simplicity of our truly practical « jewellery-calibre » gift idea will pleasantly surprise and delight recipients for many, many years to come. You'll soon wonder how you survived without it.
The LeClasp™ Key Manager (Holder)can be handed out for many varied campaigns, programs and events.
LeClasp Key Manager (Holder)
u

Everyday useful promotional gift for employees and customers;

Commemorative gift for a business celebrating a special anniversary (10-25-50th) or special occasion; memorable handout at a grand opening;

u

General meeting handout (trade shows, conventions, national sales)

u

Elegant handout at annual events (golf tournament, trade show, sales meeting, convention, safety & total quality awareness days, visiting dignitaries);

u

Corporate identification campaigns (advertise a logo, slogan, trademarked symbols, brand names, toll free number, e-mail or web site address);

u

Momentous gift to club, foundation and association volunteers;

u

Major sponsors co-op giveaway to participants at a sporting event, festival, fundraiser, international conference;

u

Consolation prize for a scratch 'n win card contest; a one-in-a-million freebie

w

\ purchase, trial offer or subscription freebies with purchases, membership renewals (only $.94 mailer);

u

New product and service launches, grand openings and consolation prize;

u

Staff Seasons & Christmas gifts to executives, customers, dedicated volunteers,

sponsors and hardworking colleagues.

Health & Safety Industry Safety Education/Incentive/Programs

u

LeClasp "Bring Safety Home" Campaign

u

u

Easy sell... Everyone craves one or two!

Membership\gift with subscription for teenagers\women
LeClasp Personal Safeguard Device
If you need additional information or would like to brainstorm how we might help you further, contact our Sales and Marketing Manager @ [ robertoq@quagtum.com ]
---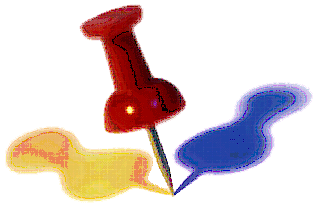 P.s. Wow... Why didn't someone think of it before??