LeClasp Personal Safety (Self-Defense) Device -
Before proceeding, it is important to notewe are NOT promoting violence, and we are convinced - men or women - understand.
At an early age we enroll our children in self-defense courses. How many confess demonstrating the "brass knuckle grip" to a teenage daughter for personal protection against attackers, aggressors, or creepy strangers??
ALL or us (women and men) at one time or other have walked o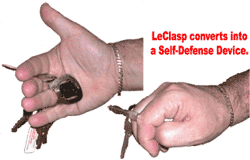 r jogged alone at night holding "one key" or "all our keys between the fingers (brass knuckle grasp)" forsafety measure.
However self-defense instructors will agree the brass knuckle or key between finger self-defense device is more or less ineffective. Why?? First, once panic sets in the average person will drop his or her keys within 15-30 seconds of an violent assault. Secondly, bones can be fractured as soon as you strike an aggressor because unanchored keys dig into fingers\hands\palms.
As a personal safety device, anyone working shift work or sportspersons traveling will appreciate the LeClasp™ Personal Safety Device that can help give you the peace of mind when leaving the office\mall late to catch the bus; or the brisk walk thru an unlit parking lot in the wee hours of the morning; or, any other time that you feel danger\uncomfortable about your personal safety.
Sooooo..... How can you quickly transform YOURLeClasp™ Key Holder into aneffective, hand claspedPersonal Safety Device for means of security?
---
Five (5) Steps to Rapidly Set up your LeClasp Self-Defense Device
Prior to leaving your home or getting of the bus and heading someplace alone, setup yourLeClasp™ Key Holderas shown at this link How to Setup YOUR Defense Key.
Picture 1

First find the appropriate Defense Key (picture 1) for your size hand.

Picture 2 Picture 3

Picture 4 Picture 5

Once sturdily anchor (pictures 2-5), you should be able to jab a hard surface (brick, wood) without the keys digging (or hurting) into your fingers\palm\hand.

For people with smaller hands, a second grasp can be used effectively: Setup LeClasp™ keys as shown in picture 2, then clench your hand in a fist and "whip\lash\slap the weight and pointy ends of the keys across the eyes\face of an attacker!!!
To escape an assault, you need to alarm\surprise\shock the attacker. During the first seconds of an attack, scream HELP and gouge/jab the Defense Key at the attacker's eye/face/neck/ribs body parts.
Victims of an attacker will hold onto the LeClasp™Personal Safety Device longer than the brass knuckle grip.
Honestly, we hope YOU (or a loved one) never NEED to use LeClasp™ for this function.
Bottom Line: Better Safe Than Sorry!
---