For many organizations, there are now more serious

injuries happening OFF THE JOB (home gardening, playing with kids in parks, garages, back yards, kitchens, practicing sports, vacationing, etc.) that are having a major impact in the workforce that it is becoming a serious issue.
Our safety initiative helps safety coordinators conveys the message of practicing safety not only at WORK but OFF THE JOB TOO. Guaranteed to generate family discussions on home and workplace "Safety First" issues, practices and procedures, spreading corporate goodwill with workers, their families and friends too.
Simple steps to implement the safety initiative!
Firstly, safety coordinators and plant supervis

ors must identify three or four SAFETY FIRST safety issues, concerns or risk at your place of work and\or home.
Over a 12-month period, we propose scheduling quarterly (1st

Wednesday of the month) 15-minute safety meetings designed to generate Safety First discussions on these safety practices and procedures. Workers are encouraged to discuss, brainstorm and recommend solutions.
At the beginning of 1st safety meeting, pla

nt managers hand out to EACH worker a LeClasp™ Key Holders imprinted (custom decorated) with a SAFETY FIRST branded message or slogan that promotes the "monthly" work safe practice and procedure. Optionally, the back side can be decorated with the organization logo as shown here.
During the ensuing 2nd, 3rd and 4th safety meetings, wo

rkers are handed out an

new LeClasp™ Key Holders with a different SAFETY FIRST message\slogan endorsing the safety meeting issue.

Safety coordinators persuade workers to "TRANSFER" personal and\or workplace keys to the "new" key holder AND... URGED TO giveaway\pass on\offer\relinquish the "previous

" LeClasp™ to a family member!!!

The "

previous" LeClasp™ Key Holders becomes the KEY to the success of the LeClasp™ Bringing Safety Home Initiative. How??

LeClasp Key Holder Conveys Your "Safety First" Issues!

Once keys are transferred over, the LeClasp™ Key Holder will be utilized

16 times per day and the SAFETY FIRST message seen 5840 per year (365-days*16) for an exponential 29,200 times over a 5-year period.
What do you think will happen when a workers' spouse, sons, daughters, parents or friend starts strolling around holding their new, exciting and practical LeClasp™ SAFETY FIRST Key Holde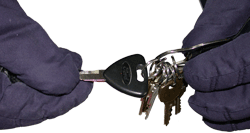 rs??
Carried 7/24, PEOPLE start recognizing (set eyes on) the very visible SAFETY FIRST Branded messages and ask questions (what, who, where, when, why) TRIGGERING thoughtful discussions on WORKPLACE and HOME SAFETY FIRST issues, practices and procedures; ultimately raising awareness and corporate goodwill.
What could be more personal than have YOUR KEYS making the transition from workplace to home environment??
And yes, in a relaxed home environment, the safety message "unconsciously" starts sinking in.
---
Wanna "Experience" The Reactions?
Simply e-mail us below for a trial sample with a SAFETY FIRST branded work safe warning and notification message.
We pledge 5-10 people in your work and home entourage will ask YOU questions about the SAFETY FIRST message displayed (imprinted) on the front side of your LeClasp™ Key Holder.
During the two (2) week assessment period, you will utilize LeClasp™ a

t HOME: To lock/unlock the house door. To start/shut off the car. To drive the kids (and/or friends) to soccer games or the movies. To remove/add those bulky remote starters and car keys when servicing the car at the dealer. Also most important to all of us who experience Canadian Winters, to be able to easily remove just your car key while wearing your winter mittens to let the car warm up and still be able to have the rest of your keys in hand to lock the door to your house or unlock the central mailbox at the end of the street.
And at WORK to remove/add LOCKOUT/TAGOUT KEYS and to efficiently "manage" the dozen or so facility/warehouse/garage/lock/truck keys; and even on business trip or vacationing for your Personal Safety!! (Follow link to learn more…)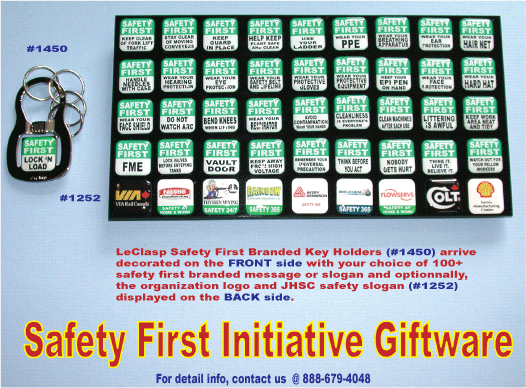 Safety Initiative Cost

Cost per worker of the campaign depends on the the number of workers involved and .

For maximum impact, the LeClasp™ "Bring Safety Home" Safety Campaign necessitates giving away minimum three (3)

Key Holders, sufficient for workers family members.

There is space on the back side of the key holder for either a 2nd safety message or, your organization's logo!!

Why not promote your organization through your employees while they're at home, on vacation, anywhere that they would bring their keys with them (pretty much everywhere!!)

Click here to visit the LeClasp Safety First Branded Key Holder Price List.

Getting Started

If you need to discuss\brainstorm the LeClasp™ safety products and solutions, contact our safety consultant @

[ info@quagtum.com ].