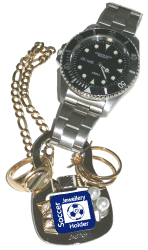 As you are aware, it is
unsafe to
wear jewellery when working out
in indoor and outdoor sports facilities
.

F
or this reason,
it is compulsory in
the majority of sports leagues (basketball, softball, karate, hockey...) to
remove any-and-all jewellery
BEFORE
training or playing
.
That's why we see parents and coaches constantly hounding children to leave jewellery at home or... gathering up earrings, piercings, wristwatches, rings, anklets and other miscellaneous accessories that could be broken or cause harm before a game.
As part of a team or league Sports Safety Initiative to prevent jewellery-related accidents and injuries, we recommended handing out LeClasp Sports Jewellery Holders to amateur participant

s, professional athletes, team sports members, professional wannabee competitors, golfers and sponsors\corporations searching for tournament giveaways.
For
detailed
information, visit our
Sports
Divisions
for sports safety initiatives: