LeClasp and Self-Defense Device!

Before proceeding, it is important to note we are NOT promoting violence, and we are convinced - men or women - understand.
At an early age we enroll our children in self-defense courses.

How many parents (dads) confess demonstrating the "keys between the knuckles brass fingers" grasp to their teenage daughters for personal protection against attackers, aggressors, or creepy strangers?
ALL or us at one time or other have walked or jog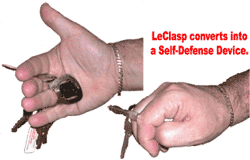 ged alone at night holding our keys in a brass knuckle grasp for safety measure.
However self-defense instructors will agree the method of self-defense is more or less effective. Why??
First, once panic sets in the average person will DROP his or her ke

ys within 5-15 seconds of an violent assault. Secondly, bones can be fractured as soon as you strike an aggressor because unanchored keys dig into fingers\hands\palms.